Car
Reserve a rental car to reach your next destination.
Penn State Fleet
When leaving from University Park, the first rental choice is Penn State Fleet. 
Rates and E-ZPass transponders are direct billed and include fuel with evening and weekend pickup.
Image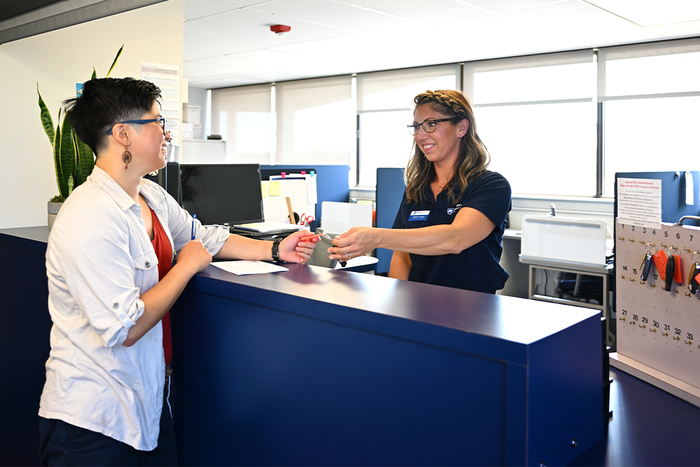 Contracted Suppliers
National Car Rental* and Enterprise Rent-A-Car
Negotiated Big Ten rates for official university business or leisure. Review University Policy BS20, University Vehicle Operations or Use for details about eligibility, insurance, accidents, fines, tolls, and parking fees. 
Check with your administrative area for procedures impacting travel and reimbursement.

*Free Emerald Club Membership
**Ages 18-20 must present a letter of authorization signed by the renter's supervisor on University letterhead stating the purpose of the rental and specifically indicating the vehicle will be used for university business. Rentals are restricted to the economy, compact, midsize/intermediate, standard, full size, minivan, and intermediate/midsize/standard SUV vehicle classes with a $15/day charge.
***Physical damage or third-party liability not included.
GPS Rental
Your department reviews the business need to approve or disapprove the rental.
National Car Rental offers a discounted rate.
Tolls
Request a transponder during pick-up to receive a second invoice from the rental agency, or a bill will be mailed.
Reservation Changes or Cancelations
Contact Anthony Travel if you booked through them or contact the car company.
Accidents
Immediately contact National Car Rental or Enterprise Rent-A-Car and call the police to obtain a report. Failure to do so will void the agreement and coverage.
Leisure Travel
Be sure to select the correct ID code (non-business) when reserving. Insurance isn't included.
Outside Travel Agencies
If you work with an outside travel agency, document the pricing, investigate, book early, read the fine print for hidden fees, and do your homework to know their customer support policy. Include the cost of the Collision Damage Waiver and Supplemental Liability coverages.
Central Procurement Buyer